Safety hazard is the monster. Isn't it? It was about 10 years ago, When I was a fresh graduated electrical engineer, and joined my first industrial job.
My duties was electrical maintenance in a plastic pipes factory. Unfortunately, the factory was high risk hazards and no safety program at all! On that day, I was working with my two members team on an electrical fault.
Accidentally I switched on electrical power while they were still working. This was very dangerous situation. But Fortunately We quickly switched off power again and we all were safe.
I learned a very hard lesson, Safety hazard is in every workplace and just need the chance to attack YOU and ME. Its the bad Monster. 
A safety hazard is any type of hazard that affects employees at the workplace. What are safety hazards examples? Common examples are listed below.
Electrocution
Contact with hot and rigid surfaces
Chemicals
Slip, trips, and fall, etc.
In this article, We will discuss different types and ways to stop or minimize them.
COMMON WORKPLACE SAFETY HAZARD
This type of hazard is most common in the construction industry. It is one big source of accidents and causalities for workers in the workplace.
The reason behind this hazard is that not all employees are fully aware of the rules regulation of working on heights. Nor they are equipped with proper training with protection techniques.
This type of hazard can be avoided by implementing proper scaffolding and fall protection techniques.
Proper inspection and identification of height location can minimize the risk of falling. Similarly, guardrail installation is mandatory to minimize the risk of falling in work areas and ensure safety hazards.
We highly recommend reading our other articles for more information:
Electrocution Safety Hazard

Another source of hazard is electricity. Extension cords, broken and uncovered wires, misusing electrical equipment and poor maintenance for electrical devices cause accidents at workplaces.
Similarly, if more than allowed devices are operated on extension cords, they can draw more current. And as a result the circuit trip or heats up due to overloading.
Using high quality products, making regular maintenance, use all electrical equipment for the intended purpose and proper arrangement of electric wires and extension cords is necessary to overcome these hazards.
Read also:
Poor housekeeping safety hazard

Poor housekeeping can create a great problem for you. A workspace consists of different materials, that may include sharp things, obstacles, etc.
Storage spaces should be handled with proper care and none of the spaces must be overloaded. To overcome this type of safety hazard, emergency pathways and workspace must be cleared out for the stable operation.
Slips, trips, and falls are associated with housekeeping. A slippery area is the main source of slips. Similarly hitting an obstacle in a workplace may cause trips and falls.
Device Lockout and Tag-out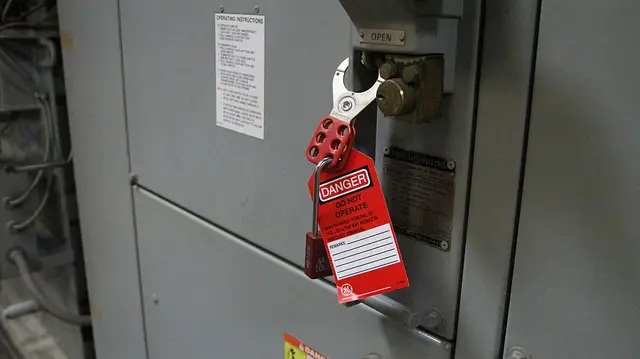 A workplace consists of different machinery and devices. Sometimes device lockout procedure fails, and it causes an accident to the person working on it. A device must be properly locked and tag out after the operation or in case of maintenance work on the device.
It is necessary to conduct a regular inspection of devices after a specific interval. Allow a properly trained person to work on the machine.
Read Also: Electrical Lock out and Tag out System
Chemical is another source of a safety hazards. Mishandling of chemicals can cause huge damage to workers at the workplace. If an organization is using chemicals, it is important to pass all related precautions on it.
Similarly, the standard protocol must be used to keep the record of all products. Similarly, a first aid kit must be made available in case of any emergency.
We discussed some basic Safety hazards topics. Besides this fire, forklifts and confined spaces also come under this category. Therefore proper training and safety techniques must be followed to avoid any inconvenience.
More common Tips about How can we avoid safety hazards?
Switch off all power sources when leaving the workplace.
Unplug all unused electrical equipment.
Use safety signs to make hazards visible and avoidable.
Reporting any near miss directly to your supervisor.
Always have and use proper PPE according to an on job risk assessment and the organization PPE program.
Installing auto fir suppression system.
All new workers should have a safety training regardless their experience.
All chemicals must be labeled and handled safely.
Using Lock out and Tag out (LOTO) when the machine is out of service for maintenance purpose.
Work permits before starting the task helps other workers in the area to take care about this work and act according to the the safety program. 
All electrical equipment must be earthed.