How to safely use electrical equipment? is the most important question to ask if you are about to deal with electrical devices. Safety roles and PPE use is for your safety, So you don't need the organization to tell you to keep your self safe.
What is meant by electrical equipment
In this article when I mention electrical equipment I will mean any equipment that uses electrical energy to run and operate like electrical saw, drill, grinder and any machines that run by electricity.
Safety use for these equipment is essential at workplace and at home.
I work for a very big company which has many electrical tools and equipment, I always use these equipment with great precautions, and also I tell all workers who are under my supervision to committed to PPE program of the company.
Hazards of electrical equipment
Before diving into the answer of the question of How to safely use electrical equipment? we should be aware about the kinds of hazards of these equipment.
Electrical hazards
Other hazards (non electrical) like:

Injuries due to sharp parts like electrical saw.
Skin burning due to heat generated by some electrical equipment.
Slips, trips and fall hazard due to not organized cords and cables.
Eye injuries due to small flying parts.
Hearing injuries due to loud machinery.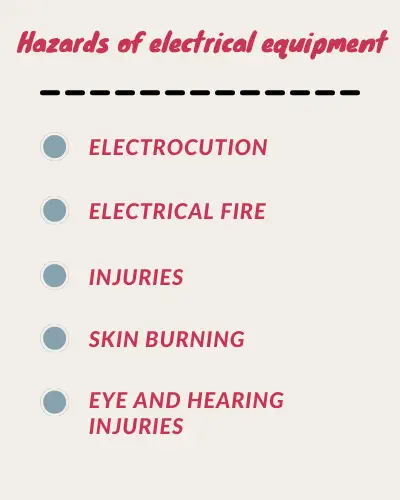 How to safely use electrical equipment
Safe use of electrical equipment tips and rules to help in preventing electrical and non electrical hazards:
Water and electricity never mix, This means never use wet electrical equipment.
Read user manual safety precautions, The manufacturer of the equipment knows hidden hazards of it, So its logical to read every safety precautions about the equipment.
If you doubt don't work. If you are not well trained and authorized to work on an electrical equipment DO NOT use it, And ask for training and help.
Use proper PPE, Every task has its own hazards and risks, So a good prepared risk assessment before the job is essential for wearing proper PPE.
Stop and report culture, Make sure that all workers under your supervision have the safety culture to stop any unsafe work and report it immediately to you to evaluate the situation and make proper decision.

Make sure all workers are well trained to stop and report any hazard.
If the worker stop a job and report a hazard, Then you find that he is wrong and every thing is good, NEVER PUNISH HIM.
Rewarding the worker of the best hazard report monthly will encourage safety culture at the organization.

Eye, hearing, and hands PPE are common in almost all jobs.
Damaged cables repair before any use of the equipment.
When using temporary cord don't lay it in the way of workers. And if it is necessary to do so, then use caution signs in the location of work.
Let the work for the professionals, If you aren't authorized electrician, never try to repair electrical equipment.
A very common mistake is using cable without plug i.e inserting the cable into the receptacle without plug. This is so dangerous for both worker, workplace and equipment.

For worker, hazard of electrocution.
For workplace, hazard of arcing fault and fire.
For equipment, It may get damaged.

Make sure that the equipment is well grounded or connected through ground fault circuit interrupter (GFCI).
When working with electrical equipment never wear rings or metal wristwatch.
Do not work with electrical equipment in rainy weather outdoors.