Hazards related to chemicals are called chemical hazards. This is a type of occupational hazard and occurs when workers are exposed to hazardous substances.
Similarly, it affects the body if someone swallow, inhale, ingest, or absorbed through the skin. Therefore chemicals need proper protection and care at the workplace. So that to ensure the health and safety of the workers and other employees.
Different types of chemicals that because hazards include:
acids
immune and dermatologic agents
pneumoconiosis agents
pesticides
carcinogens
neurotoxins
reproductive and Systemic toxins
asthmagens
Solvent
sensitizers, etc.
In this article, we will discuss different types and different ways of protection.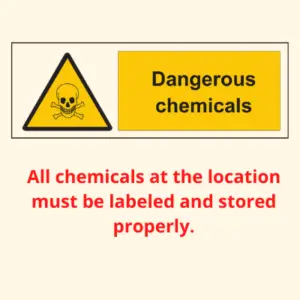 Different types of chemical hazards
No industry can operate without a chemical reaction, or chemical involved. Therefore, a lot of hazards are related to it. Some types of hazards are mentioned below.
Fire and Explosion(Flammable)
One of the most common and severe types of fire hazard is caused due to chemicals. Gasoline material like combustible gases, petrol, and diesel can cause fire and explosion if improperly handled. Similarly, smoking in these areas causes extensive fire and explosion.
Read also: How to ensure fire protection at workplace?
Chemical reactions (Reactive)
Another type of hazard i.e. chemical is a chemical reaction. When two chemical substances contact with each other. A chemical reaction occurs. Sometimes chemical reactions occur when chemical substances are exposed to water, heat, or sunlight.
Corrosion due to chemical hazards

Chemical materials cause visible destruction. This type of destruction is irreversible and cause health hazard at the workplace. Different examples are contacted with Nitric Acid, Sodium metal, Picric Acid, Silane, and Benzoyl Peroxide.
Toxic and Irritant
When somebody swallows chemicals, they can be toxic and can cause death. These include chemical materials like poison, carcinogens, and mutagens. Similarly, if chemicals contact with eyes and any other part of the skin, it causes an allergic reaction, and organ damage.
Environmental Hazards
When chemical charm environment. It is referred to as environmental hazards. Like carbon monoxide gases, Arsenic, Lead, Asbestos, Mercury, and Oil.
Different Methods to avoid chemical hazards at the workplace
Protecting workers and employees in the workplace from all types of hazards like physical hazards, electrical hazards and chemical hazards must be the first priority. Chemical hazard protection requires a proper procedure.
The first step is the identification of chemicals related hazards. Therefore, proper identification of chemicals is necessary at the workplace that can cause hazards. All information and details must be printed, fixed and must be understandable and available to all workers..
The next step is accessing risk assessment of each chemical. This step includes complete details on how to store, dispense, and utilize chemicals.
The third step consists of the control hierarchy. How to make changes in order to protect employees or workers at the workplace.
The last step is to review all requirements and ensure proper use of protective equipment.
Besides all workers must have training about chemicals safety handling. The training program must has full information on the chemicals hazards in the workplace and how to protect themselves against this serious hazard.
All chemicals at the location must be labeled  and stored properly.