Electrical safety at construction sites is an essential safety topic because construction sites are very crowded with many crossed high-risk tasks. An electrical hazard is one of the highest risks at workplaces.
Electricity has become a vital part of contemporary life, especially at construction sites.
Engineers, electricians, or employees who handle wiring, such as overhead lines, cable connections, or circuit get-togethers, work with electricity directly or indirectly.
Electricity, for example, is accepted without any regard for the dangers it presents. As a result, it is often not accorded the respect it deserves.
Why electrical safety on construction sites is hard?

It is one of the most dangerous activities to work with live electrical conductors, which requires specific well-defined controls and safeguards, as well as a certain skill set of authorized employees.
Many activities require electrical energy in construction sites. Like welding activities, lighting for the night shift, water pumps, and power hand tools.
The challenge is that construction sites are still under construction, meaning that the site is not ready for permanent electrical connections.
The use of temporary connections by workers, nonelectricians of course, is risky. Besides, more than one company may work at the same time on the same construction site. Which is more challenging to control all of them.
Setting clear electrical safety rules is the best way to ensure the safety of all those workers.
In order to safely execute live electrical work at construction sites, the following procedures should be taken into consideration.
Pre- Work Planning for Electrical work
Risk Assessment of Electrical working
Workplaces involving Hazardous Condition
Isolation (Lock-Out/Tag-Out)
Personal protective equipment, PPE, for all workers.
For more information read my article about Electrical Power Isolation
electrical hazards on construction sites
Typical electrical hazards in construction sites are:

Overhead power lines
Overhead power lines in the location are a high-risk source. You can call overhead or subterranean services to isolate power during work if possible.
If a crane, a ladder, or a high enough metallic scaffold gets in touch with overhead power lines, it may cause fire and injuries to the workers.
If it's not possible to switch power off during the work near the power line, set working boundaries for all metallic equipment that can come in touch with it.
When a crane works near the power line, a watch safety man should keep an eye on it to warn the operator in case of crossing the safe boundaries.
Wet locations
Electricity and water never mix! Electrical equipment should be kept dry and away from water.
Some workers may clean electrical equipment with water. This is a killing mistake. A good training program will help reduce these unsafe behaviors.
If electric equipment falls into the water, switch off the power before taking it out of the water, then let your leader know about it, he should call an electrician for help.
If you don't call an electrician, for any reason, you should tag the equipment as Out Of Service.
Never use electrical equipment in rain. Just wait till it stops.
Not protected electrical equipment
Electrical systems are not adequately protected, Never use non-protected electrical equipment.
The authorized electrician should make regular tests for the protection devices to make sure they are working properly.
Above-ground electrical cables
These cables may cause a slip, trip, and fall if exist on the worker's way. Make sure its path is a way of trucks and workers as well.
Trucks can cause the insulation to get damaged and the electricity-carrying conductors to expose.
Choosing the right path is the key solution to this issue. Also, you may use a cable tray if possible, and warning signs.
Grounding
Irregular electrical grounding, The grounding cable ensures a path for the leakage current to the earth, any grounding damage or cuts can cause serious injuries to workers.
Damaged Power hand tools
Tools and equipment that have been damaged or destroyed can cause electrical shock or short circuits. Do regular inspections for all power tools to make sure its safe to use.
Overloaded circuits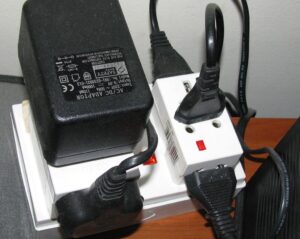 Circuits that are overloaded can cause fire due to overheating. Never overload an electrical circuit, and always stick to the design limits.
Overloaded electrical cables can also cause an electrical fire. Ask the authorized electrician or the electrical engineer about the suitable load of the cable before using it.
Electrical panels
One of the common unsafe conditions I see almost all the time during safety inspections is random connections from the electrical panels by non-authorized persons.
What happens is, a worker who needs a temporary connection finds it much easier to make the connection himself rather than waiting for an electrician.
Only professional well trained authorized electricians are allowed to work with electrical circuits.
Some more hazards regarding electrical panels at construction sites are: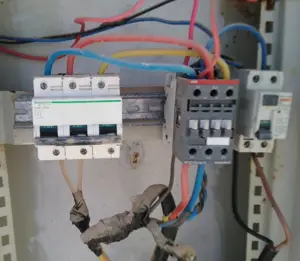 Cables without fittings.
Random connections and joints.
Items without labels.
Rust and corrosion.
Poisonous snakes and scorpions may enter the panel if the panel has openings or is not closed properly. This happens in my workplace, as I work in the desert.
Dust and water also may cause a short circuit if enter the panel. The IP protection of the panel should be suitable for the location.
For more information about IP protection read my detailed article on my electrical engineering site "Electrical4UOnline".
electrical safety checklist for construction site

s
| | | | |
| --- | --- | --- | --- |
| | Date: | Site: | Inspector: |
| Ser. | | Condition | Remarks |
| 1 | Is the generator has an emergency stop button, test it | | |
| 2 | Is generator wiring insulation good? | | |
| 3 | Are generator power parts covered? | | |
| 4 | Is power cables' insulation good? | | |
| 5 | Is power cables path away from trucks? | | |
| 6 | Is power cables away from workers' path | | |
| 7 | Check OHTL, and verify they are at a safe distance | | |
| 8 | Verify all panels are in a safe condition | | |
| 9 | Check RCDs and tools testing records | | |
| 10 | Make sure no wet power tools | | |
| 11 | Make sure power tools are double insulated | | |
| 12 | Check grounding of all electrical equipment | | |
| 13 | Check lights for the night shift and dark areas | | |
construction electrical safety tips
Lock-out mechanisms must be used for any electrical work carried out in the vicinity of a building.
No temporary electrical supply shall be established without the consent of the site electrical engineer.
Whenever feasible, all temporary wires must be installed above ground.
A unique joint system must be used if joints are to be manufactured. All cables must be in great condition. All cables must be in phenomenal shape. An earth leakage test must be performed on all completed electrical work to guarantee its safety.
In accordance with the existing rules and standards, all instances involving electric shock shall be recorded.
Electrical plant and equipment, including portable equipment and tools, shall be checked visually before operation.
Any new electrical risks at building sites must be reported by workers (isolate power source immediately if possible, to do so safely)
Registration is required for electricians working on building sites to perform electrical installation, commissioning, maintenance, and repair activities
In terms of electrical safety, workers must follow reasonable instructions.
portable electrical equipment on construction sites
To prepare for a good electrical safety inspection on a construction site, you should be aware of the portable electrical equipment on the sites.
Not all electrical equipment is used in all construction sites. I will mention the most common equipment you may find.
Electrical welding machine.
Power hand tools.
Lighting fixtures and lamps.
Electrical generators.
Power cables.
Receptacles and power plugs.
Portable lighting torch.
Distribution Panels.
Cords.
Water pumps, i.e Electric Motors.
You may find all or some of these electrical equipment. You may also find other stuff, but the principle remains the same, Keep them safe.
Electrical Safety Precautions on Construction Site
Behave as though all electrical equipment is energized.
In any circumstances, avoid contact with energized electrical circuits.
Job around energized electrical equipment in crowded areas is prohibited in all cases, except where required by the nature of work.
Before maintaining or repairing electrical equipment, disconnect it from the power source.
When dealing with electrical devices, use only tools and equipment with non-conducting handles.
Be sure your hands are dry before handling plugged-in equipment. Wear PPE like non-conductive gloves, protective clothing, and shoes with insulated bottoms if feasible.
Only use one hand if it is safe to do so. Keep the other hand off any conductive surfaces and in your pocket or at your side.
Reduce the use of electrical equipment in cold rooms or other areas where condensation is possible to follow.
It will be inspected and tested at suitable intervals to guarantee continuing safe usage.
Turn off power at the main switch or circuit breaker if water or a chemical has been spilled on equipment, and then disconnect it.
Do not touch the equipment, cable, or person if it is in contact with a live electrical conductor. Remove the circuit breaker's power supply.
A faulty circuit should not be concealed by grounding, nor should it be corrected by inserting a new fuse or breaker, especially one with a higher-rated capacity.
If you are working near capacitors, short-circuit the terminals to drain the charge, and make sure to keep the terminals short-circuited during the job to prevent electrical shocks.
Unless instructed to do so, never touch another person's equipment or electrical control devices.
PVC conduits with protective blocks or other authorized coverings should be used for all electrical wiring to avoid inadvertent penetration. From main runs to junction boxes, the steel-wire armored cables should be laid. The unprotected cable should never be placed along the ground.
Wet or sweaty hands, feet, or body should never be used to operate electrical equipment.
The back of the hand should be used to contact electrical equipment (for example, to check for overheated motors).
Liquids that are very flammable should not be stored near electrical equipment
A GFCI or ELCB should be used to protect against electrocution in case of a short circuit.
If the cabinet door is open, the high-voltage source is disconnected, but the power to the control circuits may still be on.
This electrical test equipment does not indicate voltage and current measurements. If you are testing a live circuit, you must use a volt/ampere meter.
IP (intrinsically safe) electrical lights should be used during commissioning operations or when working in a hazardous environment.
OSHA Standard Guidance
It's no secret that electricity is a significant job hazard. Its goal is to reduce such probable risks by establishing the design features of safety in the use and operation and maintenance (Occupational Safety Health Assessment Series OSHA) of electrical equipment and systems.
Only those electrical elements of a system that employees or staff would typically use or contact are covered by OSHA's electrical safety regulations.
National Fire Protection Association (NFPA) standard NFPA 70E, Electrical Safety Requirements for Employee Workplaces and National Fire Protection Association (NFPA 70) Committee (1978 edition) of National Electrical Code (NEC).
Read Also: How To Ensure Electrical Fire Protection