WHAT DOES PPE STAND FOR?
We will answer the important question What is PPE for welding activities? But firstly, What is PPE stand for?
PPE stands for Personal Protective Equipment, It is any equipment designed for wearing by workers to protect them against one or more hazards during any work activity. PPE Examples are hard hats, gloves, safety shoes, goggles, and more.
As I'm working for a very leading company in the Oil and Gas field, wearing PPE during work and ensuring that all workers under my supervision have and use their personal protective equipment comes first.
The company I personally work for has almost all hazards and high-risk jobs and tasks like:
Working at height
Welding, grinding, and hot-cutting activities
Electrical high voltage hazards
Explosive atmosphere hazards
So we deal with many PPE for many tasks. In this article, I will help you to have a good answer to the important question What is PPE for welding activities?
FOR MORE INFORMATION ABOUT PPE READ MY DETAILED ARTICLES:
HAZARDS ASSOCIATED WITH WELDING
Welding tasks are considered a high-risk activity, So welders must have and wear welding PPE all the time of welding to protect them from the many hazards in this job.
In general, the Safety hazards associated with welding and cutting include:
exposures to metal fumes
exposures to ultraviolet and infrared radiation
burns
eye damage due to intense light and flying particles
electrical shock
fingers and toes injury and cuts
WHAT IS PPE FOR WELDING ACTIVITIES?
Welding activities are high-risk tasks, So many Personal protective types of equipment are essential to protect each part of the welder's body. Let's discuss what is PPE for welding.
eye and face PPE, welding helmet, goggles, or hand shield, are used to protect from flying [articles, UV radiation, intense light, hot slag, sparks, irritation, and chemical burns.
breathing, Welding is a fume and oxides-producing task, so respirators are used to protect the Lungs.
skin, Wearing fire-resistant clothing to protect exposed skin from heat, radiation, and fires burns. Don't use pants with cuffs, Never tuck pant legs into your safety boots And make sure shirts have taped closed pockets or flaps over pockets.
hearing, Use Ear muffs or ear plugs to protect your hearing from noise, If sparks may enter the ear then fire-resistant ear muffs are your option.
protecting feet and hands from electric shock, heat, burns, and fires with safety boots and insulated gloves. Wear good condition, steel-toed, leather, high-topped
EYE POTENTIAL HAZARDS DURING WELDING
Welding task includes welding, cutting, or grinding. All these activities have serious hazards which can injure eyes like intense light, hot slags, radiation, and metal debris that can fly in the air. So protecting eyes by wearing:
The welder's helmet for protection from welding intense light is fitted with a filter shade.
safety glasses should have side shields or instead of glasses wear safety goggles in case wearing a welding helmet is not possible for any reason.
WELDING HAND SHIELD AND HELMET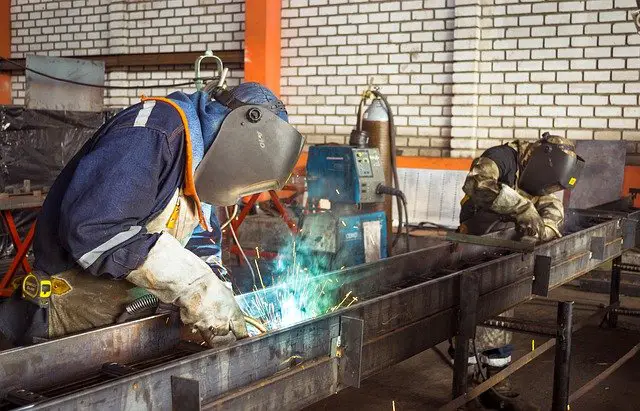 Welding hand shield is important to protect the face and eyes from heat and radiation. This is why hand shields have an assembly of components.
polycarbonate plastic outer cover plate to provide good protection from radiation, scratches, and impact.
glass filter lens with filler for protection from intense welding light, And to protect eyes in case of any breakage in the filter lens a clear lens made of plastic is used.
the helmet shell is designed to be opaque to light and electrical, impact and heat resistant.
WHAT IS PPE FOR WELDING MOST IMPORTANT TIPS
When I worked for a welding company, that was before working in Oil & Gas company, The workplace was in the desert, which meant weather of unbearable heat, however, all welders in the work wear their heavy clothing, hand shield, and helmets.
This gives us the first important tip which is to Wear your PPE even if you are not so comfortable in them.
Wear heavyweight, 100% cotton or wool welding clothing to protect from open flames, hot metal, UV radiation, and sparks.
To avoid collecting sparks in your pockets use clothing with covered pockets with flaps or close your pockets with tape.
Never carry matches and butane lighters in your pockets when welding.
Rings, wristwatches, and other jewelry may increase the hazard of electrocution, burn, and injuries during welding.
Synthetic clothing can burn, melt and cause your skin to burn.
Wear good condition, steel-toed, leather, high-topped safety boots.
To prevent sparks from entering your boots, Wear high-top fully laced leather boots.
Use a hood to protect the back of your head.
Don't wear oily or greased clothing.
According to CSA Standard W117.2, Welders should never wear contact lenses while welding.
Keep lenses clean all the time.